"NT SERVICE" UAB
Home address: Ateities rd. 34 Kaunas LT52165 Lithuania
Phone/fax : +370 37 320222/+37037320122
E-mail : sales@ntservice.eu
Website: www.ntservice.eu
General information about the company: Design, implementation and servicing of communication and IT solutions for public, private and critical infrastructure networks. Multi-dimensional security solutions for defense and public safety authorities.
Equipment will be demonstrated:
EDM4S :
Electronic Drone Mitigation System EDM4S is a counter-drone solution designed to protect public venues, critical infrastructure, VIPs and other objects from unauthorized drone flights.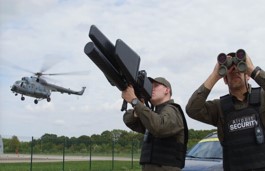 Video: https://youtu.be/JsAkkjScKsY
RINS :
Remote IED Neutralization System RINS is an innovative remote controlled solution for safe disarming of Improvised Explosive Devices (IED) and Unexploded Ordnance (UXO).