Company name: Defsecintel Solutions


Home address: Akadeemia tee 21/4, Tallinn, Estonia, 12618.
Phone/fax: +372 5340 2633
E-mail: info@defsecintel.com
Website: https://www.defsecintel.com/
General information about the company:
DefSecIntel Solutions (DSI) is freedom defenders' partner in surveillance and control. More than 25 years of team experience within defense and security industries, in more than 25 countries, helping protect borders and law enforcement. Defsecintel is focused on the development and integration of autonomous and automated surveillance solutions for homeland security and defense agencies and critical infrastructure sectors. Main system SurveilSPIRE is an integrated situation awareness system, which core is a patented Mobile Autonomous Surveillance Platform (MASP) including aerial support recon subsystem and AI-assisted C2 software. The system uses unique machine learning detection models and advanced surveillance methods for automated classification and operations.
EXAMPLE:
MOBILE SURVEILLANCE PLATFORM
Mobile autonomous surveillance platform SurveilSPIRE, with a built-in AI detection software and autonomous energy source, to conduct fully automated operations in different weather conditions.
Light weight high surveillance platform, which doesn't require field operators.
Integrated unmanned aerial inspection system built in.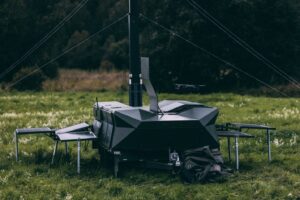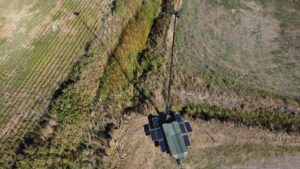 CAIMAN – MOBILE SURVEILLANCE SYSTEM
CAIMAN – Mobile Surveillance System (MSS) based on 4×4 off-road vehicle, which is equipped long-range thermal camera module, which can be mounted inside the sensor compartment. The vehicle has operator seats and screens built inside the cabin.